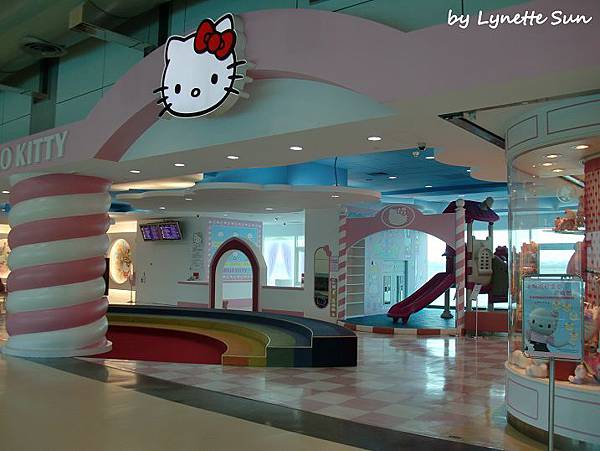 Last month, before I went on my trip, I didn't know that there is such an adorable waiting room at Taoyuan Airport before I went boarding at C3. There must have news about it, but I was probably too busy with my work. That's why I was oblivious of this irresistible area. In fact, when we were at Terminal 2, just after we went through the customs, my sister and I passed by some pinky hone boxes with Hello Kitty's pattern. It caught my eye straight away, but little did I know that there would be a bigger surprise! 上個月出國前,我跟我妹要不是因為登機的地方是在桃園機場第二航廈C3門,我根本不會知道桃園機場有這麼可愛的候機室! 一整個就是可愛到爆表,超卡哇伊的啦!後來我孤狗了一下,才發現其實之前新聞就報導過了耶,可是我居然不知道... 也許是工作過於忙碌,或者是當時我根本就默不關心... 不過總算是讓我看到了啦。事實上,在我看到這麼可愛的候機室前,我們就路過一些以Hello Kitty造型的電話亭啦。當時就馬上吸引了我的目光,只是我不知道後面還有更大的驚喜等著我!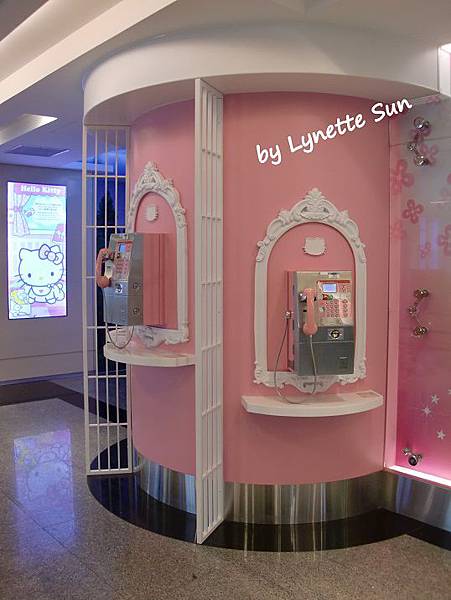 This is the "phone box" I was talking about! It's designed for both adults and children to use. So sweet, isn't it? But I wonder how many men ever want to make any phone calls there. 這就是我剛剛所說的Hello Kitty電話亭。瞧它的設計,有高有低,一看就知道是分給大人跟小孩或者是殘障人士用的,很貼心吧! 不過我懷疑有男性敢在這裡打電話嗎? 還是他們覺得用手機就好了吧?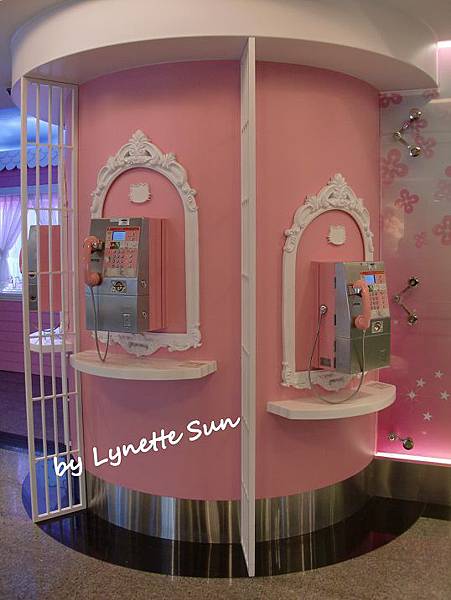 One more shot. 再拍一張。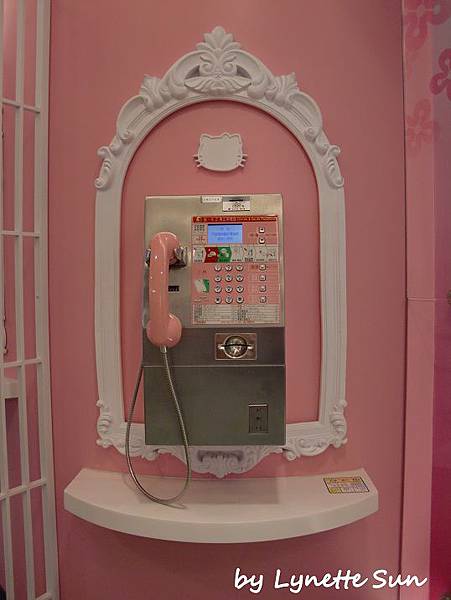 This is the front of the Hello Kitty phone. This is probably the most dreamy phone I've ever seen in my life. 正面也來一張。看到這樣可愛的電話亭,我真心覺得這大概是我這輩子看過最夢幻的電話了吧,簡直像是童話世界被抱移出來的產物。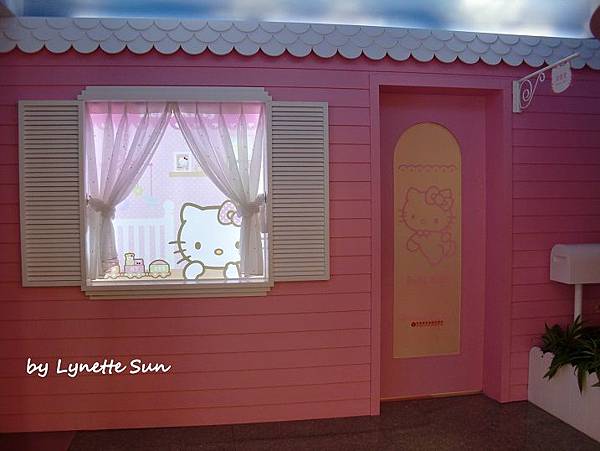 Do you know what this is? I was surprised to know that it's a nursery room! Lovely. 猜猜這是什麼? 是育嬰室喔! 真的很溫馨耶!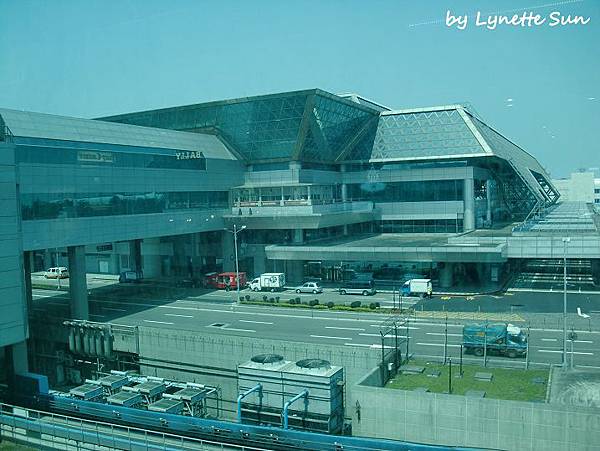 This is the view from Taoyuan Airport. 這是前往C3登機門之前,在桃園機場第二航廈內往外看的景色。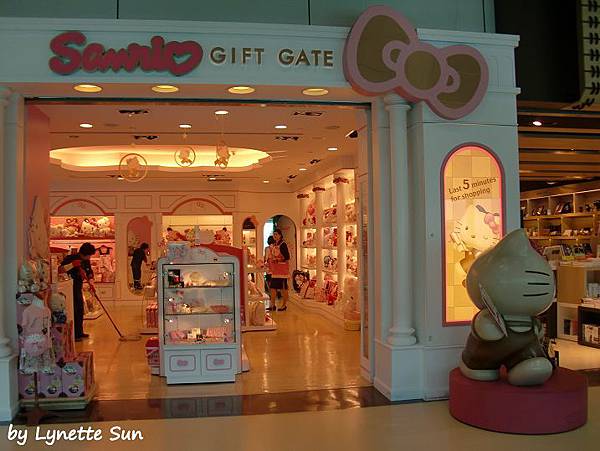 This is Hello Kitty Gift Shop. Buy some "Hello kitty" stuff before you leave! 候機室旁邊是Hello Kitty專櫃,在妳們出國前,買幾個紀念品,出國送給對Hello Kitty有興趣的人吧! 哈哈。
Here's the news about Hello Kitty at Terminal 2 at Taoyuan Airport: 有關全球機場首創Kitty商品專賣店新聞
http://www.sanrio.com.tw/news/kt_dfs.html
根據這篇報導,「這是由Sanrio台灣授權昇恒免稅店共同合作、全球機場首創的Hello Kitty夢幻玩國,整體空間視覺效果跳脫傳統,為桃園國際機場創下全球獨一無二的特色空間。」我強力認同這句話呀! 而且覺得有這麼可愛的候機室,忽覺台灣文創力量很驚人。
Also, do you know that Hello Kitty was born in London in 1974? To my astonishment, she's got a twin sister called Mimmy!
還有,你們知道其實Hello Kitty是1974出生於英國倫敦的貓咪嗎? 令我更訝異的是,原來Hello Kitty有分身耶! 分身就是她的雙胞胎姊妹Mimmy。
Learn more Hello Kitty's biography here (I didn't really read the English biography) 這裡有Hello Kitty生平簡介,不過英文版的部份我就沒很仔細讀了... 感覺像是日本人寫的英文:
http://www.hellokittyuniverse.com/page/Hello+Kitty+Biography
"In the real world, Hello Kitty was born in London in 1974, (even though a Japanese company named Sanrio made her)when a young Tokyo-based company called Sanrio company co., asked designer Ikuko Shimizu to invent a cartoon character who can relie on to the preteen girl in every girl. Sanrio company co., which already created a bear and a dog (and, curiously, a strawberry) in its growing cast of characters, needed a new character that could be decorated on a plastic coin purse that they were planning to produce.
Shimizu, wanted to create a cat that was preteen-nish for sure, author Marie Y. Moss writes in a book called "Hello Kitty Hello Everything", but one that would certainly prefer a catnap to catnip." And so the designer drafted a white cat wearing a red bow and blue overalls. On November 1, 1974, Sanrio introduced the first picture of Hello Kitty. She sat between a bottle of milk and a pet goldfish, and had turned her head sideways to face her newfound friends. In a word: cute. Or more accurately, Kawaii, the distinctively Japanese breed of cuteness that injects adorable attributes into all aspects of the country's consumer culture.
In her own make-believe world, Hello Kitty wasn't even Japanese. She lives in the suburbs outside London with her father, George White, mother, Mary White, and twin sister, Mimmy White. Yes, Hello Kitty is a nickname for Kitty White and on her birth certificate states Kitty White. How can you to tell the difference between Kitty and Mimmy? Look at both of their bow. Hello Kitty prefers a red bow in her left ear on the other hand Mimmy prefers a yellow bow on her right ear. Other occupants of the White house include Bear, apparently a living teddy-bear and Marley who pops out of the garden.
Sanrio located the Whites in England as a nod to the surging Anglophile of 1970s Japan, notably the books and illustrations of Beatrix Potter (The Tale of Peter Rabbit) and Lewis Carroll (Alice Through the Looking Glass). Much has been made of Hello Kitty's mouth, or lack thereof. A handful of feminist scholars say her uncommunicative nature perpetuates the submissive female preteen type. While others attribute Hello Kitty's appeal to her blank stare -- onto which fans can project their own emotions.
According to Hello Kitty's official bio on Sanrio's website, "Kitty is a cheerful, warm-hearted little character baking cookies is her forte, but what she enjoys most is eating a slice of her Mama's apple pie!" We also learn that her favorite things include candy, stars, and goldfish, as well as the inevitable "small, cute things." Hello Kitty is in third grade. She weighs the same as three apples and stands five apples tall. Her blood type is A.
Hello Kitty turned 30 in 2004, and although in her world she remains a kitten, her Earthly reality continues to grow. In 1993, Sanrio introduced a boyfriend for her, a similar-looking kitty named Dear Daniel. The two playmates rarely rendezvous, however, because Daniel is perpetually on African safari with his family (dad is a photographer). No worries, correspondence is a Hello Kitty mainstay, hence her fondness for stationery. Other members of her social circle include the teen bunny Kathy, brother and sister monkeys Timmy and Tammy, and boy puppy Jody."